Brunson helps Buchanan Hardwoods use precision alignment to uncover costs and add revenue to their bottom line
Buchanan Hardwoods - a leader in the lumber industry, supplying hardwood products to markets worldwide - came to Brunson Instrument Company in 2016 after installing a new carriage track in their Alabama sawmill.
John Hubbard, mill manager, contacted our technical service team to level and align their heading primary breakdown line. Our challenge was to use precision optical alignment in order to optimize performance in the sawmill's new and legacy timber processing equipment.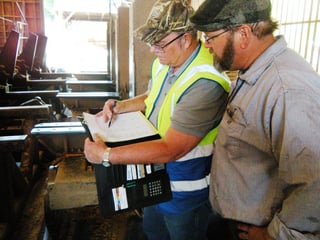 On location, our service team was able to take measurements quickly and accurately with an optical instrument called a jig transit, with adjustments to the sawmill machinery made according to the reference line we set in just a matter of hours.
If that process sounds too easy to be true, take a look at our sawmill alignment introduction video, which will further explain how the jig transit sets the stage for precision alignment in sawmill equipment.
Following our team's visit to the sawmill, Buchanan reported a .025 inch reduction in heading standard deviation - a surprise to them, but not to us!
Other benefits they were happy to report included a reduction in bench time and grinding cycles as well as an improvement in rail and wheel life cycles.
The cost savings and opportunities to increase revenue motivated Buchanan to bring the Brunson service team back for a comprehensive alignment of their gang edger, which had previously experienced abnormal guide wear and saw issues. After significant precision optical alignment checks and machine adjustments, their sawmill machinery was running better than ever.
We look forward to reporting on our upcoming work at Buchanan Hardwood's sawmill facilities as we provide consultation and alignment services for the replacement of their upper band mill wheel this year.
You can also learn more about Brunson's sawmill alignment services by visiting our website.